Drag & Drop, Mobile Web Meetings & In-Browser Guest Mode!
Drag & Drop
You can now "Drag & Drop" your teammates into calls, meetings, rooms or spaces! This will send the person you're trying to add a call request that they can accept to join the call, or decline if they're busy.
In-Browser Guest Mode
Your external guests can now join Tandem meetings in "Guest mode" directly from their browsers, sign-up is no longer required!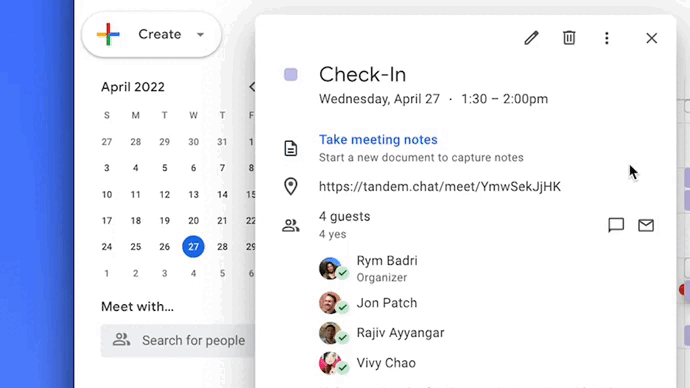 Mobile Web Meetings
Your teammates and guests can now join Tandem calls directly from their mobile web browsers. The Tandem mobile app is no longer required to take your calls on the go! For a better call experience, we still recommend downloading Tandem for iOS or Android.
Raise Hand Widget
By popular demand, the "Raise Hand" widget is here! This new meeting widget enables you to add yourself to an organized list. This is particularly useful if you take turns speaking during a meeting, or for Q&A sessions. Once you're done speaking, hit the "Done" button, and you'll be removed from the list.
Mobile Portrait Mode
Videos of teammates that join from the Tandem mobile app or Mobile Web are now displayed in "Portrait Mode".
Hybrid Spaces!
And in case you missed it - Hybrid Spaces are now available! Hybrid collaboration can be challenging. Remote teammates suffer from the "second-class citizen problem" - feeling excluded from spontaneous brainstorms, magic moments, and the creative energy of the office. Hybrid Spaces bridge the gap between remote and in-person teammates to make hybrid work the best of both worlds. Spaces are made up of multiple kiosks distributed across your office (open floor, meeting rooms, lounges...) to enable remote mobility and seamless interactions. Learn more about Hybrid Spaces!
Other Improvements
Teams with kiosk devices now have the ability to add kiosks to a meeting from the team list.
We've made some improvements to our video grid layout engine.
We now support multiple domains for teams.
And finally, stay tuned for our new iOS and Android apps with bug fixes and performance improvements.
— Rajiv