Call Reliability and Quality
Fix for missing (black) video streams in certain conditions.
Improved call setup experience.
Reduced frozen video issues.
Numerous other fixes, mitigations, and infrastructure improvements.
Tandem for iOS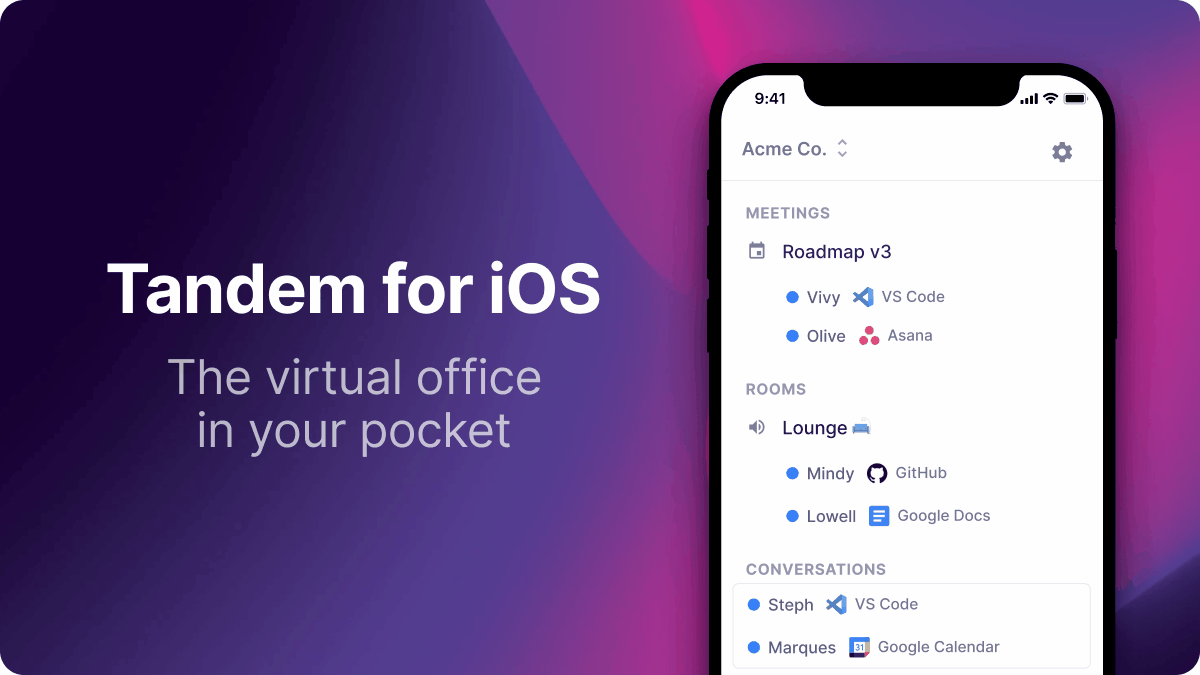 👉 Get Tandem for iOS on the App Store 👈
Your virtual office—now in your pocket. Tandem for iPhone and iPad allows you to see who's talking on your team and join meetings, rooms, and conversations while on the go.
See who's around and tap on a teammate to 👋 wave or talk!
See what rooms or meetings are active, and 👂listen in with a tap.
Do a 🚶‍♀️🚶‍♂️walking 1-on-1 to break up the day.
Take your meetings on the go.
View screen share.
Audio-first experience, but you can also send and receive videos (beta)
Launch Zoom/Meet meetings from Tandem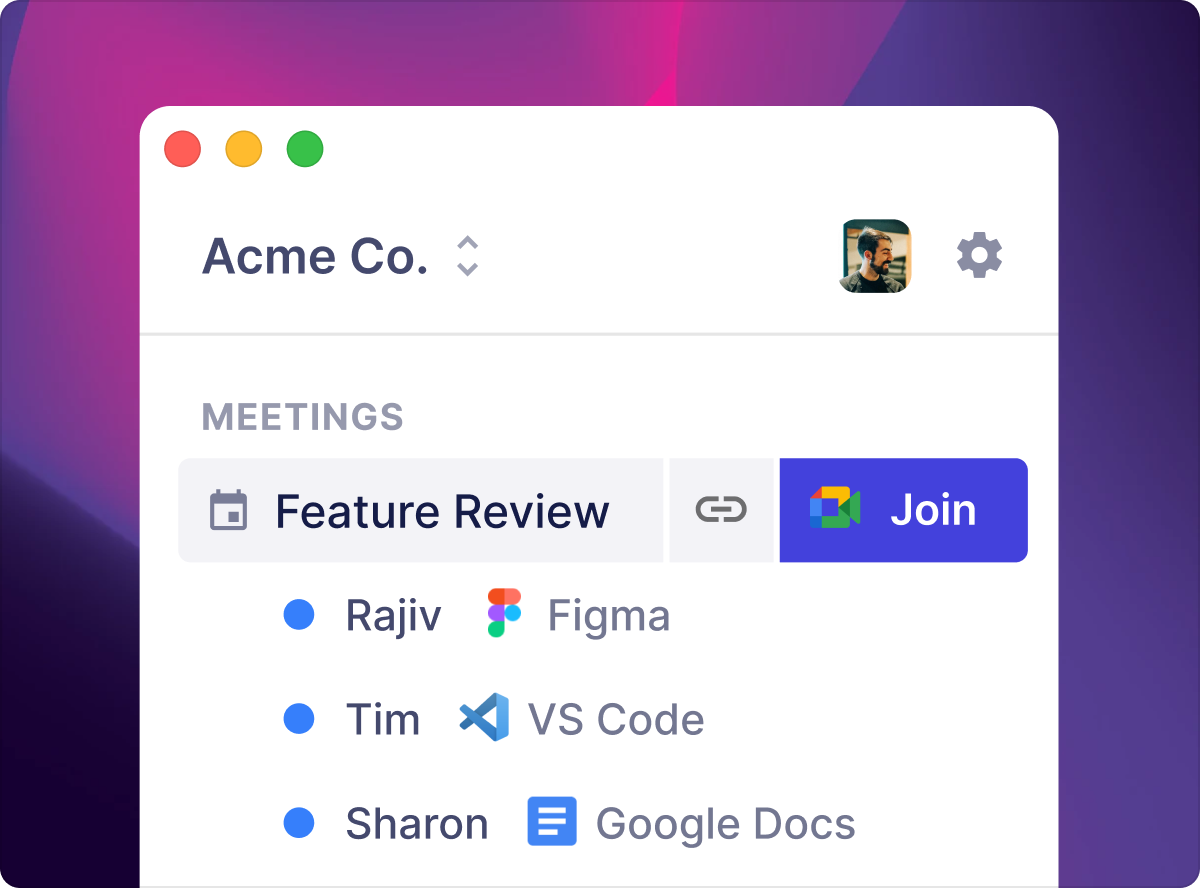 Now, you can see, join, and launch Meet/Zoom meetings in Tandem.
When a meeting event has a Meet/Zoom (or other service), you can choose to start the meeting in Tandem or launch the conferencing service (admins can set team-wide defaults). Your teammates will see you in the meeting room on Tandem and can join you in Meet/Zoom.
You'll automatically leave the meeting room at the meeting end time, or you can click Leave to remove yourself from the meeting.
While on Meet/Zoom you can switch to Tandem in 1-click (meeting details panel → Switch to Tandem). All the participants will be added to a new Tandem call.
Never be late to a meeting: Meeting Reminders let you auto-join the meeting exactly on time, and will show both a Meet/Zoom button and a Tandem button. To activate, go to Settings > Meetings > Show meeting reminders.

In case you missed it:
G Suite Add-on to add Tandem meeting links to scheduled events. - Learn more
Meeting reminders - Never be late to a meeting - Learn more
Same Physical Room (prevent echo/feedback on hybrid calls) - Learn more
Notify me when a teammate is free - Learn more
Improvements
📡 Improved Google Calendar syncing
🔗 Copying meeting links is now more accessible in and out of calls
📆 Browser meetings are now supported in Safari (beta)
Hovering over teammates listening to Spotify shows cover art (requires Spotify integration)
Chat supports up to 30MB uploads
Mighty Browser is supported in Tandem
In the main app, calls now show profile images instead of a blue circle
Refreshed images and text in integration settings pages
Improved in-call More Options menu (three dots).
Mute everyone now mutes yourself as well.
Pressing CMD + W during a call will ask you to confirm before leaving
Added a setting for disabling same room wifi modal
Added a team admin setting to make meeting titles private
Starting or joining a crosstalk automatically unmutes you
Fixes
Fixed bug where you call someone but they don't show up in your callbox right away
Fixed unanswered callers not leaving automatically
Fixed an issue with local time when hovering over a teammate tooltip
Fixed bug with empty video unit when toggling blur quickly
Fixed room covers not working properly
Fixed a few issues when using "Same room" feature (prevent echo and feedback during hybrid in-person / remote calls).
Fixed various call participant actions (invite participants, make dj, wave from details pane, click on music, call user from chat)
Fixed stuck members in call box
Fixed celebration emojis for web calls
Fixed for load more messages shown in call window
Fixed layout issues with small call window
Fixed screenshare overlay still hanging out after call is done
Fixed the scrollbar showing up sometimes on call window
Fixed window sizing causing windows to float to front
Fixed widescreen video streams looking squished