How to stay in flow when remote 🌊🏄
At Tandem, we're obsessed with simplicity, speed, and reducing friction - whether it's getting into a conversation, or collaborating in real time. Why? Of
At Tandem, we're obsessed with simplicity, speed, and reducing friction - whether it's getting into a conversation, or collaborating in real time. Why? Of course fast, simple, intuitive tools feel awesome (e.g. Superhuman, Sublime Text). But more than that, speed allows you to stay in flow, spend less time on mechanics, and more time connecting.
When you're remote, it can be difficult to connect with your team while also staying in flow. Here are some tips:
Fewer meetings
For a quick chat, simply wave 👋 at a teammate who's free—like a tap on the shoulder. Or click ⏰ Notify me when free and Tandem will ping you when they're available and not in a meeting or room.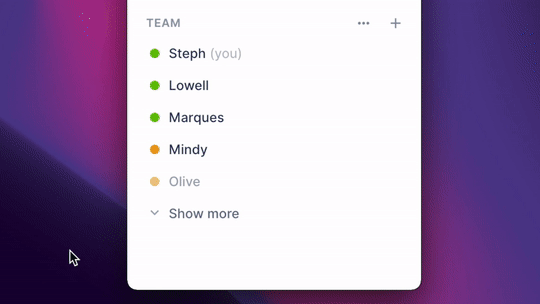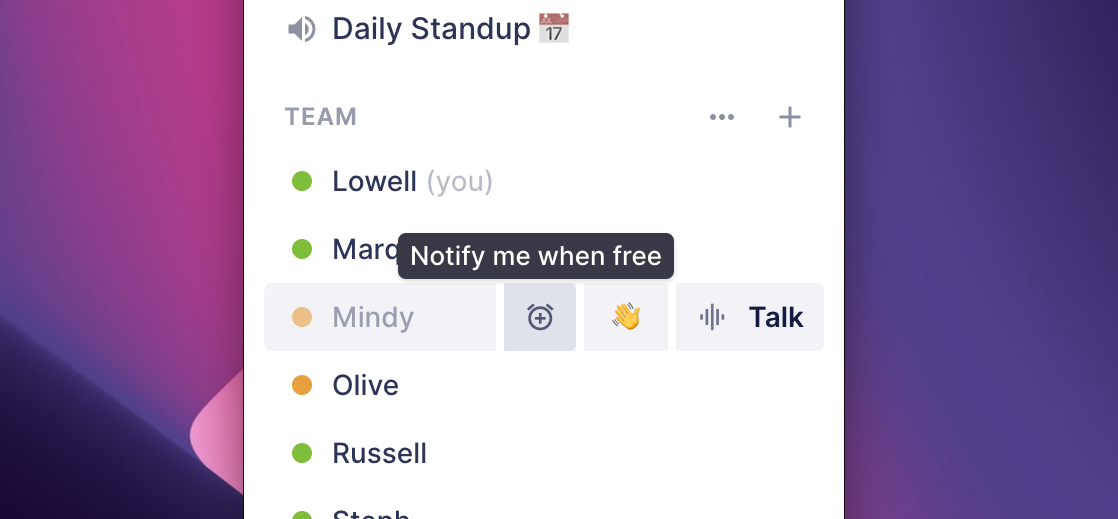 Auto-join meetings
No more nervously checking calendar! With Meeting Reminders, you can stay in flow until the last possible second. Works for both Tandem meetings and other services - e.g. Zoom, Meet. Go to Settings > Meetings.

Be a super-collaborator with shortcuts
Get everyone on the same page: No more: "Hey can you send me the doc?" - Instead, instantly send a link to your current active tab with Cmd+Shift+L (Ctrl-Shift-L on Windows).
Help a teammate: Click on your teammate's name for a tooltip for helpful actions. Instead of asking someone to screenshare → click + R to request screenshare. You can also end screenshare if they forget. Instead of asking someone to mute...just do them a favor and mute them - they'll get a polite notification.
Mute/unmute yourself with CMD+SHIFT+M (Ctrl-Shift-M on Windows) Modify and enable shortcuts for video and screen share in Settings > Preferences.
Walk & talk 🚶
Screen fatigue is the enemy of flow. Use our handy iOS app to stretch your legs on a walking 1-on-1, take a call on the go, or listen in to a room. Your virtual office in your pocket!
🍏 Download Tandem for IOS in the App Store
🤖 Get Tandem for Android in Google Store
What's your favorite way to stay in flow? Let us know!
What top teams say:
"Tandem is what's allowed us to function well as a distributed team. Our average meeting times are shorter than on Zoom, and there's less friction when you just need to talk to someone for a few minutes."
—Everett Cook, CEO - Rho Banking powers collaborative finance for fast-growing companies.
"Tandem gives us the space to work on things together, without having to schedule back-to-back meetings."
—Dani Sandoval, Dir. of Design - Chipper Cash is the leading platform for cross-border payments in Africa.