Defining the Hybrid Workplace and What It Takes to Master It
"The future of work is hybrid". You probably heard this sentence a dozen of times within the last year, and for good reason. As the pandemic starts easing down (in some parts of the world), companies are beginning to encourage their employees to come back to the office.
Rajiv is the co-founder and CEO of Tandem, a virtual office for hybrid and remote teams.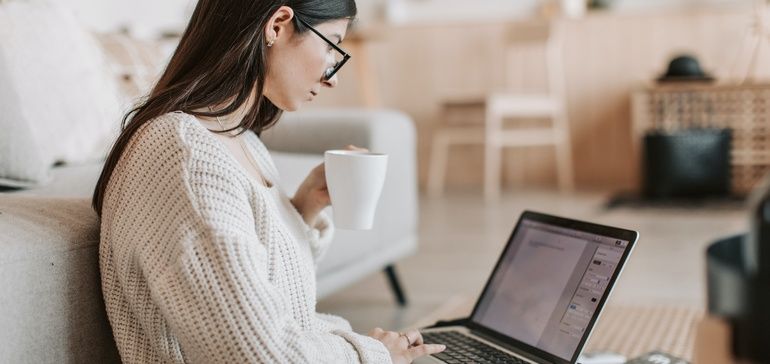 "The future of work is hybrid". You probably heard this sentence a dozen of times within the last year, and for good reason. As the pandemic starts easing down (in some parts of the world), companies are beginning to encourage their employees to come back to the office. Two factors are motivating this shift. First, research has demonstrated that in-person interactions and presence improves collaboration, team culture, productivity and gives everybody a better sense of purpose. Second, employees want to work remotely, sometimes. A McKinsey survey has recently shown that in a post-pandemic world, employees would like to be in office at least 1-2 days per week.
This new set of expectations is putting companies in a situation where they need to figure out the infrastructure, technology, and culture changes needed to transition to a hybrid work model. But in order to do that, they need to gain a thorough understanding of what hybrid work is. In my previous article on hybrid anxiety and hybrid optimism, I mentioned that the term "hybrid work" is often poorly defined. Companies (and the media) assume that is is a linear combination of remote and in-person work, however, it is more complex than that. It requires companies to shift inwards to get a comprehensive view of their workplace structure and understand where they want to take it next.
In this article, we'll dive into the definition of hybrid work and examples of what it looks like in practice, and discuss the implications for companies and employees moving forward.
What is Hybrid Work?
It is almost easier to define what hybrid work is by looking at what it isn't. Is your company fully-remote? Is it fully in-person? If your answer is no to both of these questions, then you are hybrid. Depending on your employees' need for flexibility, company policies, and hiring practices, hybrid work can be split into three distinct categories:
Remote + In-Person: Your company is split into full-time remote workers and full-time in-person workers.
Flexible Remote or In-Person: Your employees get to choose when to work in-person and when to work remotely. Your company doesn't require them to be present in-person on specific days of the week.
Structured Remote or In-Person: Your employees come into the office some days of the week, and the company sets the remote/in-person work schedule (e.g., Tuesdays & Thursdays are in-person work days.)
What Does It Look Like in Practice?
It is important to acknowledge that because of the novelty of the situation, the vast majority of companies are still trying to figure out what hybrid work "looks like". They are experimenting with different tech stacks, policies, and office layouts to determine what works best for their employees. It is too soon to determine who got it right, but here are a few promising examples of what hybrid workplaces might look like in the (very) near future.
Google unveiled its hybrid approach to work in 2021, and opted for a 3 days in-office/2 days remote work week. As soon as covid cases slow down, they believe that about 60% of their workforce will be present in-person a few days a week, 20% will move office locations and another 20% will be fully-remote. In order to accommodate the new structure, their real estate and workplace services team is testing different team spaces structure. Within other improvements, that led to the creation of the famous "Campfire" meeting pods. Additionally, the company invested in a colorful office space in London worth $1 billion, showing its faith in the future of the physical office as a hub for in-person collaboration and connection.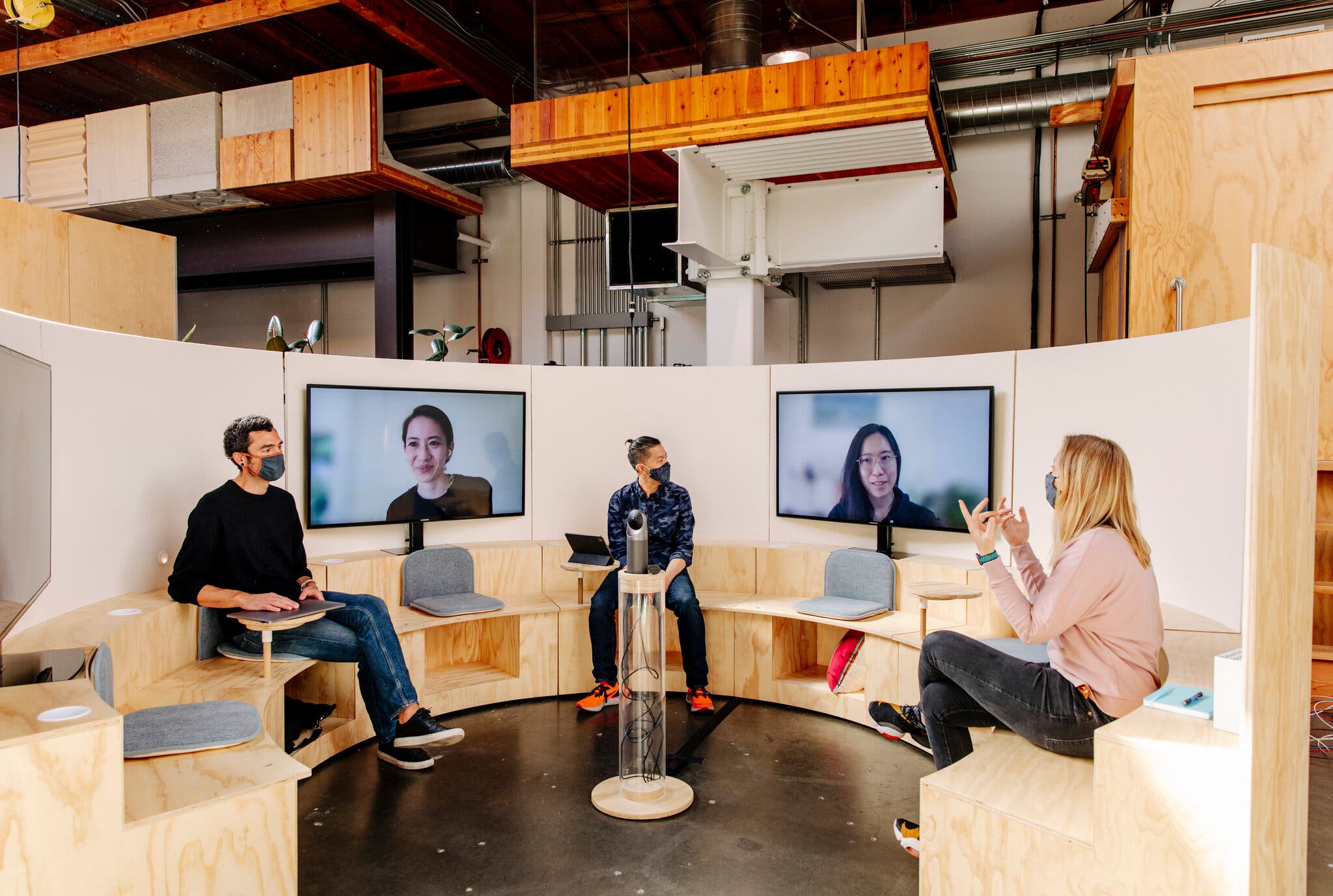 Other companies, like Dropbox, opted for more creative structures, to empower teams to work on their own terms. In 2020, the company unveiled "Dropbox Studios", the intentional physical collaboration and community building spaces, and made it very clear that they cannot be used for solo work. In addition to that, Dropbox embraced "non-linear workdays" and set core collaboration hours that overlap between time zones when teams can communicate and hold meetings. The rest of the time, employees are encouraged to set their own schedules, unlocking a new level of independence and ownership.
Similarly, Spotify introduced what they called "My Work Mode", a workplace structure that allows employees to either work full time from home, from the office, or a combination of the two. Each employee and their manager get to decide the work schedule that suits them best. The company also introduced location independence, allowing everyone to pick which country and city they want to work from (with certain limitations to address time zone difficulties and regional laws), and will go as far as supporting a co-working space membership if the employees moves to a location that isn't near a Spotify office.
Hybrid work isn't and shouldn't be a "one-size fit all". It will need to be custom tailored to what your company looks like and how it operates. Some of the variables that must be factored in include: company size, workforce distribution, health and safety measures, company culture, hiring practices, cross-departmental collaboration, employee sentiment, business goals... (Stay tuned for our upcoming blog! We will take a deep dive into each one of these and how you should incorporate them in your hybrid workplace planning.)
The Implications of a Hybrid Workplace
Now that's we've gone through the definition of hybrid work and real life examples, let's look into what this shift in workplace structure means for companies and their employees:
Synchronous Communication Over Asynchronous Communication. When companies used to operate fully in-person, async communication was often paired up with synchronous communication. The hallway chat about the upcoming customer meeting, the colleague dropping by your desk to ask about the status of a project, or the manager checking in on their team in real time are all examples of the seamless interactions that got lost the second the world transitioned to remote work. Spontaneous conversions were replaced by endless email threads, slack messages and an overwhelming sense of disconnect. As you plan for the future of work, it is essential to provide a combination of async and sync communication tools to empower teams to communicate better, whether they are present in person or working remotely.
Intentional Collaboration & The "A-Ha" Moments. It's 2018, you and your team booked a meeting room to plan for your next product launch, you spent endless hours making sure that your engineering infrastructure is flawless, that the UX/UI is up to par, and that the onboarding process is intuitive. You're brainstorming how to introduce your product to market, and then it happens. The "A-Ha" moment you were waiting for. These magic moments don't happen as often when teams are working remotely, and may happen even less in hybrid workplace settings if they aren't intentionally designed to promote collaboration. Mohak Shroff, Head of Engineering at LinkedIn describes it best: "The answer is not to create more meetings or email threads, but instead to re-imagine virtual spaces that can function like the classic whiteboard and other serendipitous modes of collaboration."
Psychological and Physical Safety. One of the biggest predictors of team effectiveness is psychological safety, and it often relies on two basic concepts: see and be seen, literally and figuratively. Employees need to have a certain level of visibility into the office, policies, and business goals and at the same time, managers need to create and environment that encourages employees to share their opinions freely and any personal information that can impact their work performance.  In addition to that, companies need to, of course, be in compliance with Covid-19 health and safety regulations, occupancy limits, and implement any policies that they deem necessary to ensure that their employees feel comfortable going back to the office, in-person.
Inclusiveness & The Second Class Citizen Problem. If the transition from remote to hybrid work isn't properly planned, companies run the risk of marginalizing their remote employees. That, in turn, can negatively impact their sense of belonging, productivity and overall trust. Workplace inclusiveness is in the details. Simple things like the communication tools you use, how critical information is shared, or whether your employees feel like they have access to their teammates no matter where they are can go a long way.
Ultimately, the companies that will thrive a post-pandemic work setting, are the ones that take the time to plan for it, in advance. Trust, inclusiveness, communication, and collaboration are all essential elements to build a company culture designed for hybrid work. And if the transition is done correctly, companies will reap the benefits across employee happiness, productivity, and innovation.
---
Subscribe to our newsletter to get hybrid work content, news, and research delivered to your inbox weekly!
🚀
Tandem is a virtual office for remote and hybrid teams that recreates your office environment on your desktop.
Try it out with your team!