Introducing Hybrid Spaces: Teleport around the office
Offices are powerful spaces for collaboration and creativity. Working builds trust, and trust unlocks speed and creativity. But flexibility is here to stay - not everyone is willing or able to be fully in-person. And that's why the best companies will be hybrid.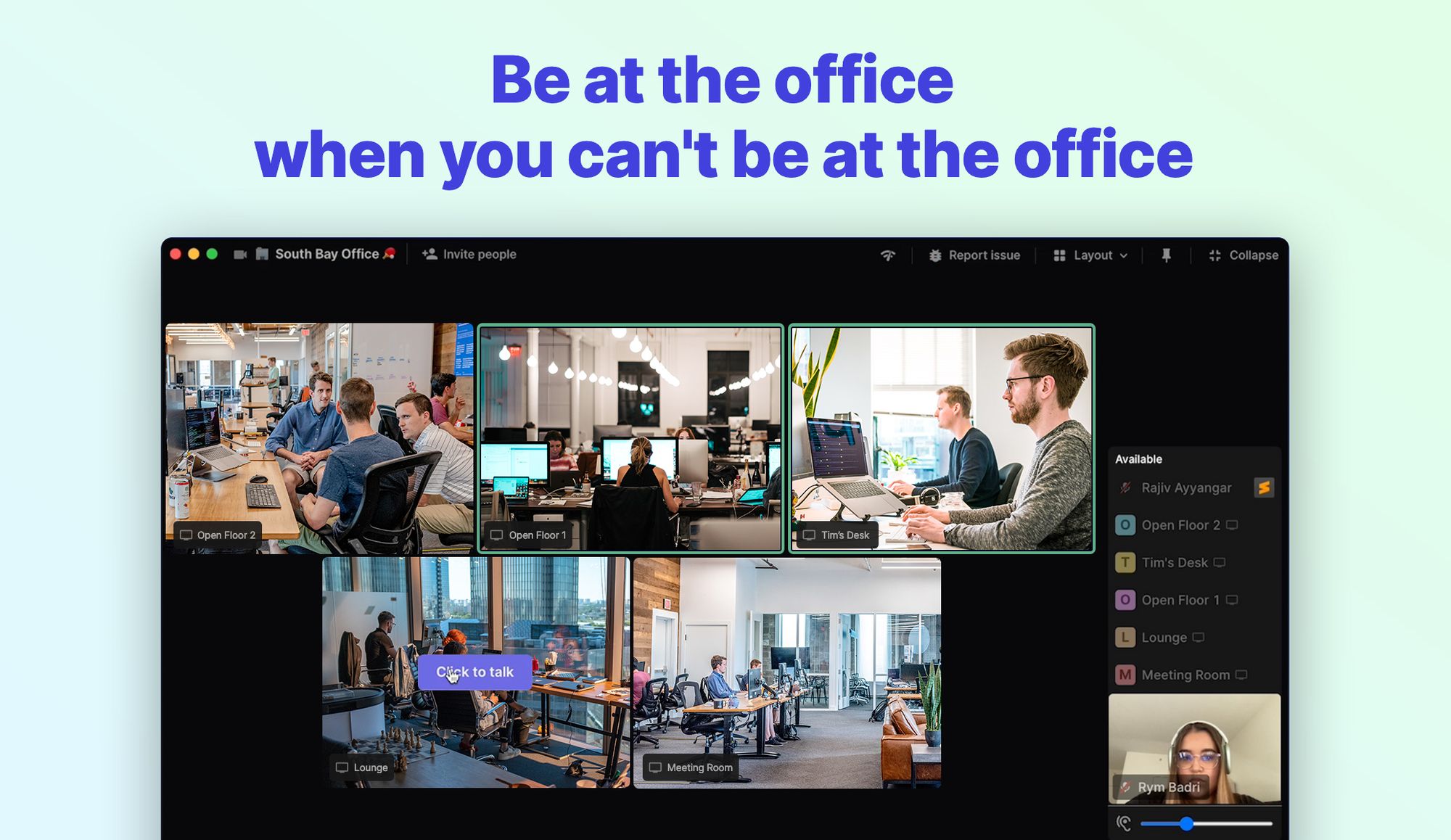 The future is hybrid
Offices are powerful spaces for collaboration and creativity. In fact, working in-person can be like a team superpower—it builds trust, and trust (or psychological safety) unlocks speed and creativity. But flexibility is here to stay - not everyone is willing or able to be fully in-person. As a result, the best companies will be hybrid.
Nearly a year ago, I wrote about the coming wave of hybrid work in Hybrid Anxiety and Optimism, and we've seen it happen. Here are some snippets from this month alone:
But hybrid work has massive, systemic, org-level, and team-level tensions. Employees want flexibility, but this creates a logistical nightmare. In-person is naturally synchronous and spontaneous, but these conversations are especially difficult to include remote teammates in. Overall, remote teammates are severely underpowered, and can feel like 2nd-class citizens.
The office needs to evolve, but how?
We know the wrong answer: Bringing people back to the office only to take calls from separate rooms, have less spontaneous chats, and more scheduled meetings. This is truly the worst of both worlds. Instead, we must make remote employees more powerful than ever before.
We must give remote teammates the power to engage with in-person teammates as easily as a tap on the shoulder, join in on spontaneous jams and brainstorms, and collaborate effortlessly across multiple media.
At Tandem, we've not only been thinking on the hybrid problem for years, we've lived it. Our team is hybrid, with two micro-offices in SF and Cupertino, and some fully-remote team members. We experimented relentlessly, attempting to solve the problems we felt, personally, and ultimately held a company-wide hackathon, where we made a major breakthrough.
Enter Hybrid Spaces:
Using off-the-shelf conferencing hardware, Spaces give remote teammates an always-on window to teleport around the office.
As an in-person user, seeing your remote teammates on larger surfaces in the office feels surprisingly natural, and makes it easy to interact spontaneously.
As a remote user, the feeling of visibility and power is visceral. There's a sense of mobility - it feels like you can teleport around the office, and be where you want to be. There's also a strong feeling of presence - your teammates know you're around, and you're aware of the hum and energy in the office.
Spaces transform the open floor and unlock hybrid "hallway conversations" in-between meetings, but also bring fluidity to scheduled meetings. Some features to highlight:
Launch external meetings (Zoom, Teams, Meet, Webex)
Google Calendar resource support (launch meetings automatically)
Cast your local or remote screenshare with one click.
Support multiple cameras at the same time (e.g. show people and whiteboard at the same time)
Quick to setup and flexible
Hardware is flexible. You can get started with a spare laptop but investing in nicer kiosks (mic + camera + TV) allows for a more immersive and engaging experience. We recommend at least 2-3 kiosks to get started with Spaces. They're easy to swap out and rearrange around the office based on your floorplan and traffic.
Setup is fairly quick and self-serve, and we're happy to schedule a 15 minute setup call to help.
Pricing: Spaces are available with any paid Tandem plan with an additional $50/month (for up to 25 kiosks).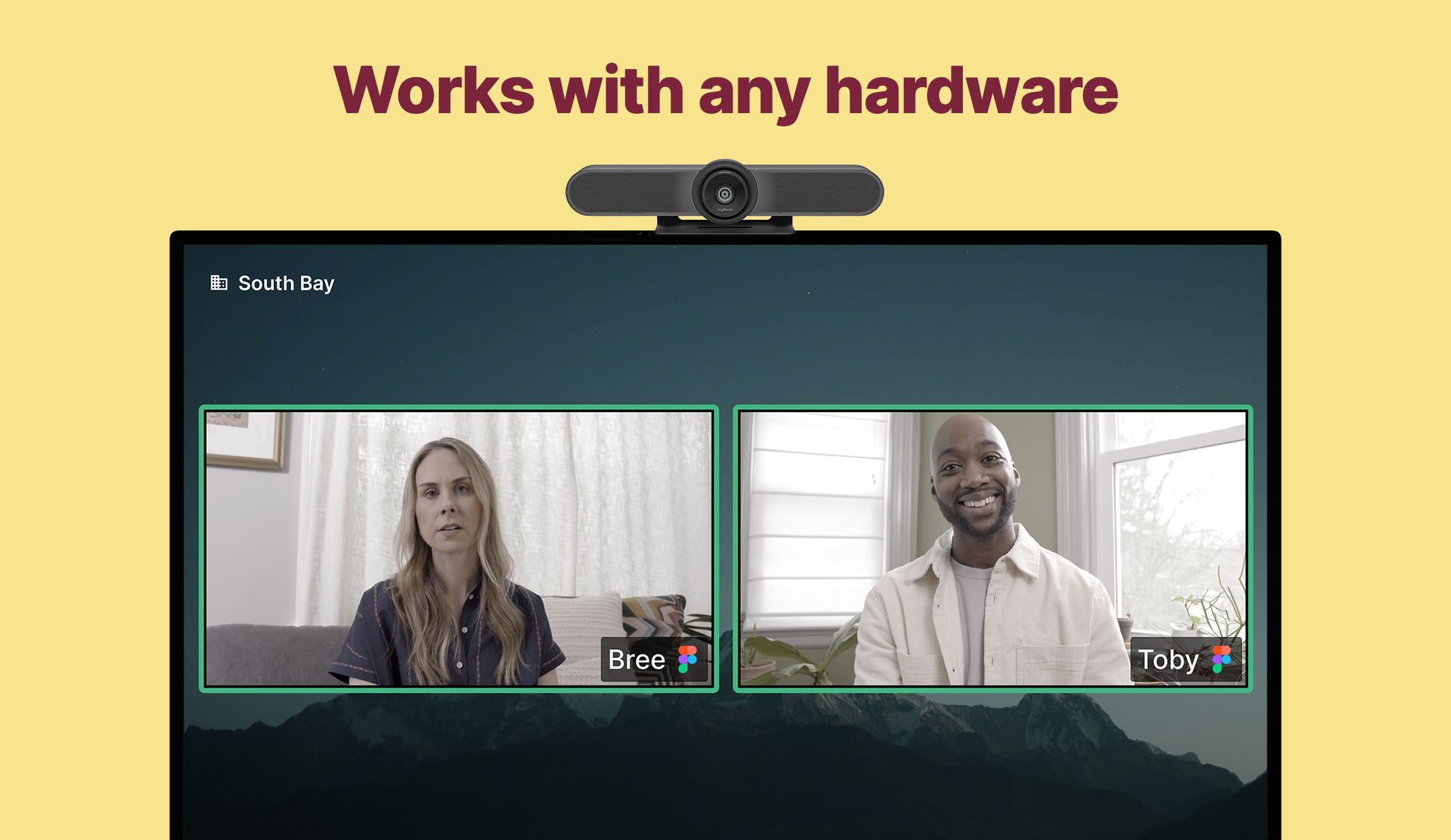 What our pilot companies say
"Lightfox Games is fully embracing a hybrid model, allowing people to work wherever they feel the most productive. As we moved back into a physical office space, we were worried about how we could ensure we maintain a collaborative environment with some team members together physically, and others working from home. Tandem Hybrid Spaces has been instrumental in ensuring that our remote employees and office employees feel effortlessly connected. From standups, to important meetings, to just watercooler chatter, The Kiosk is the heart of our office space." — Jordan Arnold, Head of Product/Design at Lightfox Games
"Our common use cases include checking on the status of 3D prints, fostering a tighter hybrid community, and enabling the magical ability to truly teleport throughout a workspace." — Ian Villa, COO at Whisper Aero
"Hybrid Spaces allow our team to recreate the serendipity of walking by a co-workers desk or dropping into their office for a quick chat. Although we are working thousands of miles apart, Hybrid Spaces help generate serendipitous interactions and make our team feel as if we are working together in the office." — David Bromberg, Founder at Lantern
Onwards
Hybrid Spaces are now available to set up (you don't have to be an existing Tandem user) - If you want to learn more prior to setup, feel free to book a 15-minute demo with us.
As a final thought, I'm personally thrilled that—in our pilots—Hybrid Spaces are delivering on what we set out to do a year ago. From my piece Hybrid Anxiety and Optimism:
While the fine details may still be fuzzy, we can sketch in broad strokes what a successful hybrid office will look like: Those workers who are remote will have access to the flow of in-person collaboration; you'll look back on your last meeting, collaboration session, or spontaneous conversation, and not be able to recall which teammates were in the office and which were not.
— Rajiv Ayyangar (CEO)