Tandem's 2021, and Looking to a Hybrid Future
Rajiv is the co-founder and CEO of Tandem, a virtual office for hybrid and remote teams.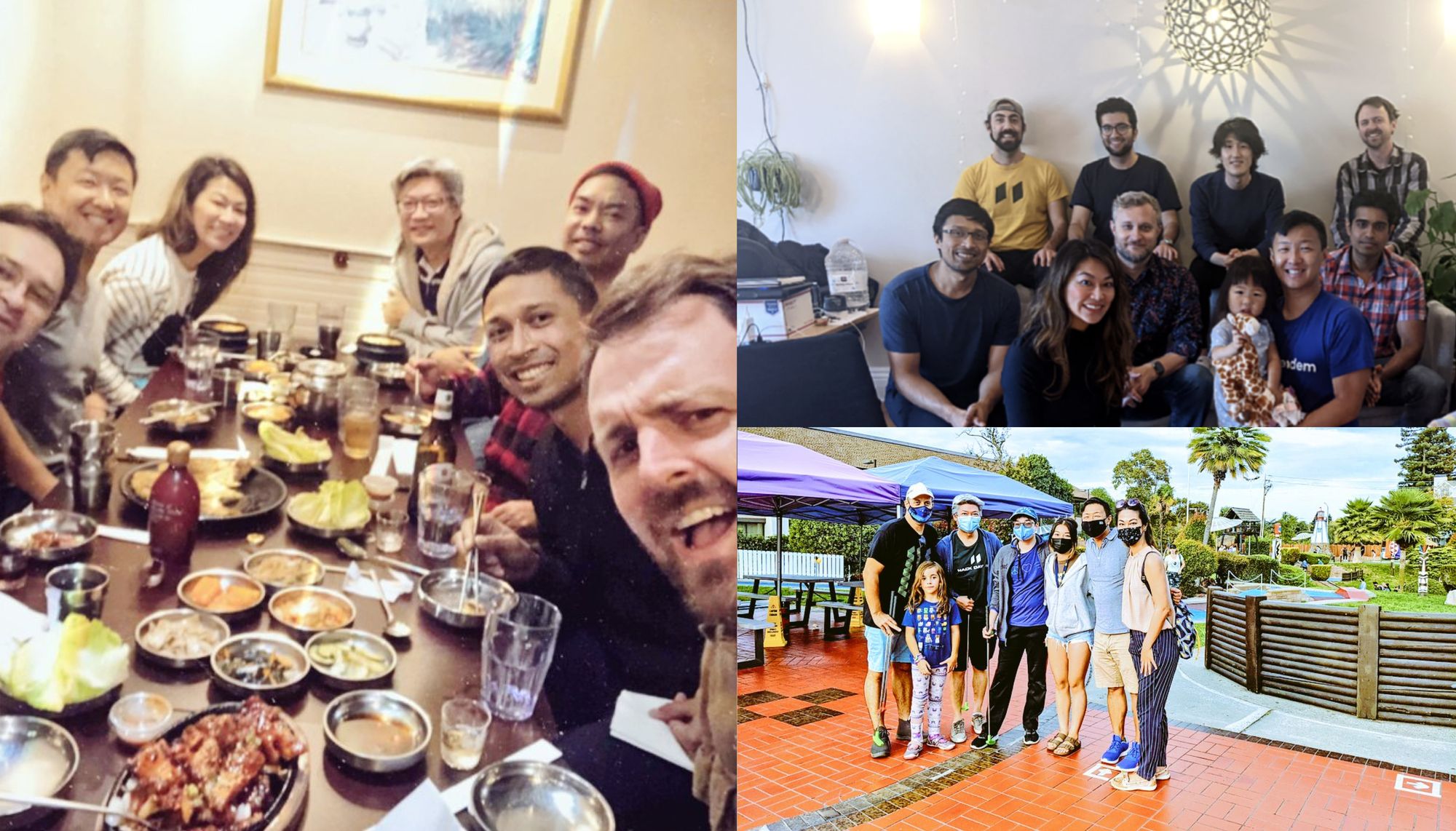 2021 was a year of research, discovery and experimentation. Companies around the world realized that there is no "going back to normal"— that remote and hybrid work arrangements are here to stay. As I've written, the shift to hybrid work has as much cause for optimism, as for anxiety.
But before we dive into 2022, I wanted to take some time to reflect on our progress over the last year, and what we've learned while building the virtual office around you, the teams and companies using Tandem.
2021, in the Rear View Mirror
Hundreds of companies around the world embraced Tandem to connect, engage, and collaborate. Here's a peek at how you've used Tandem in 2021:
You spent over 1 million hours on Tandem calls, mostly in spontaneous chats. We love seeing all the team connection and collaboration!
You sent over 1.6 million Rockets! 🚀 What started as an April Fool's easter egg quickly became your favorite feature. Here's to celebrating small and big wins, and launching even more rockets in 2022.
You high-fived each other over 500,000 times! ✋ We hope no one left you hanging.
You sent over 1.6 million live chat messages while in calls! (pro tip: try our ⚡️ slash commands /trivia /timer /random)
We've also seen some interesting trends and collaboration patterns emerge, mainly the combination of short "bursty" talks (half of all calls were under 15 minutes) and longer co-working sessions (30% of call time was in calls longer than 90 minutes).
Companies Love Tandem
The teams that got to experience the Tandem virtual office have a lot to say:
"Tandem is what's allowed us to function well as a distributed team. Our average meeting times are shorter than on Zoom, and there's less friction when you just need to talk to someone for a few minutes"
Everett Cook, CEO - Rho Banking powers collaborative finance for fast-growing companies.
"Tandem gives us the space to work on things together, without having to schedule back-to-back meetings"
Dani Sandoval, Director of Design - Chipper Cash is the Leading platform for cross-border payments in Africa.
Here's even more of what you've said about Tandem on our website!
Delightful Improvements & New Features
This year, we've launched multiple new features to enable seamless collaboration, improve hybrid calls, and help you stay in flow. Here are some of them:
Meeting Reminders & Auto-Join Meetings: No more nervously checking your calendar! With Meeting Reminders, you can stay in flow until the last possible second. Works for both Tandem meetings and other services - e.g. Zoom, Google Meet.
Team Tables: A new casual conversation mode that allows you to co-work, be available to chat, and have spontaneous conversations with your teammates - just like working around a physical table.
Same Room Setting: Selecting 'We're in the same room' prevents audio feedback on hybrid calls (i.e. when some participants are in-person and some are remote).
You asked. We listened.
As a quickly evolving product, your feedback is critical to us. It allows us to craft a better experience, identify gaps, and prioritize product improvements, based on what you value the most. Many of the features we launched in 2021 were top user requests, including:
Visit our products updates section to learn more about all the improvements, and new features we've launched in 2021!
A Look at 2022, and Beyond
The pandemic redefined the meaning of work for many of us, and has shown that there is no going back to the traditional 9-5 in-person work week. As we transition to a post-pandemic world, and in-person interactions are no longer restricted, companies are reimagining what the "everywhere workplace" looks like.
Employees Want Flexibility
Employees got to experience the benefits of remote work, discovered their ability to be productive no matter where and when they work, and they made it clear that they believe in flexible workplaces structures. A recent EY Survey has shown that 40% of employees want flexibility in where they work, and that 54% would consider leaving their job post-pandemic if they are not afforded some sort of flexibility.  
A separate survey, conducted by Gallup, has shown that 39% of employees want to resume in-person work sometimes, and that 44% want to continue working remotely because "they prefer it".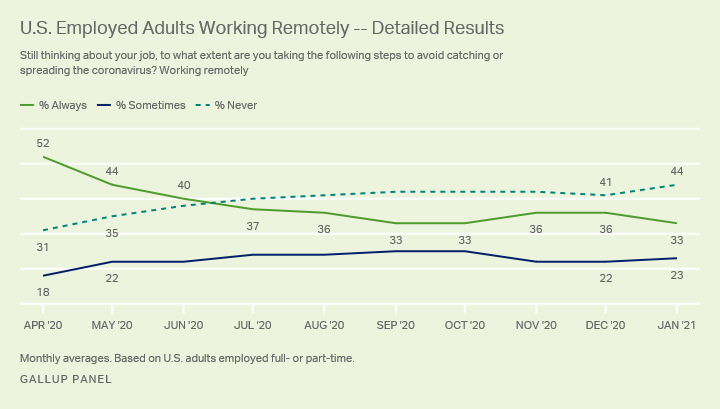 These findings highlight that the employees that worked remotely for most of 2020 and 2021 are starting to break into two distinct groups: Those who want to resume in-person work, at their convenience, and those who want to keep working from home. This puts employers in a situation where they need to put in place workplace arrangement that cater to both groups, equally.
Companies Are Experimenting
When it comes to a "flexible" workplace structure, there is no "one size fits all", and many companies are experimenting with different approaches, different tools, technologies and policies in the hopes of finding the optimal arrangement.
A number of companies decided to embrace a hybrid workplace model, including Salesforce, Google, Facebook, Dropbox, Amazon, and others. Salesforce, for example, decided to opt for a "Flex" work model, where most there employees will be in the office 1-3 days per week for customer meetings, presentation and to collaborate with their teammates. They came to this conclusion after conducting multiple employee surveys that have shown that 80% of their employees want to maintain a connection to a physical space and come in a few times per month.
Others, like Netflix, believe that remote work is a "Pure Negative", and intend to implement back-to-work policies as soon as a majority of their employees are vaccinated and the pandemic dies down.
A third category that includes Twitter, Quora, and Pinterest decided to go for a "fully remote" or "digital-first" set-up, allowing employees to work remotely permanently. However, most of them will continue to operate office spaces, for the employees who opt to work-on-site.
The Future of Work is Hybrid
At Tandem, we've always believed that the future of work is hybrid.
Hybrid is the best of both worlds - It combines the flexibility, work-life balance, and deep focus of remote work, with the serendipity, trust building, and innovation that in-person collaboration allows.
Ultimately, the companies that will thrive in a post-pandemic world are the ones that adapt to how their teams work best, create experiences that reach everyone, and allow their employees to work on their own terms. And in order to do that, they will need to adjust their workplace policies, invest in technologies that bridge the physical and digital world, and empower their teams to collaborate seamlessly, no matter where they are.
And because of that, our team has been focused on developing a hybrid solution that bridges the gap between remote and in-person employees and transforms your virtual office into the ultimate collaborative hub. Introducing: Tandem Spaces.
Tandem Spaces is a solution designed to provide your remote employees with a "window into the office" and make them more powerful than ever before, so they can interact, connect, and collaborate with their peers as seamlessly as if they were present in-person.
As a remote worker, it feels like a way to "teleport" into the office, so you can ask a quick question, say hello to a group of people, or eat lunch together. We're fine-tuning the solution internally and rolling it out soon to a select group of pilot teams. Let us know if you'd like to be one of the first!
Subscribe to our newsletter to get our weekly digest on the state of hybrid work, insights on how to set-up your hybrid workplace, and Tandem product updates.
---
🚀
Tandem is a virtual office for remote and hybrid teams that recreates your office environment on your desktop.
Try it out with your team!